In the fall of 2016, Google rebranded its decade-old "Google Apps for Work" as "G Suite." While the name is a bit more simplified and more streamlined, the heart of what it does is pretty much the same: offers cloud computing tools for businesses of all sizes.
The biggest difference, other than the name, is that Google upgraded all of its G Suite apps. Where the product was once good, it has become truly excellent. Because of the new updates, it's worth updating yourself on G Suite. Here are four big things you need to know: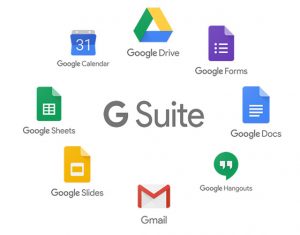 1. It's not free, but it is worth it.
Everyday users can have a Google Drive account with 15GB of storage for free, but if you want more than that, or if you want a G Suite account, it's not free (Google, like a lot of other tech companies, is embracing the software as a service subscription model).
However, G Suite is very affordable considering what you get in return, and, unlike a lot of other subscription software, you pay for exactly what you need. G Suite pricing is based on the number of users per month at your chosen tier. All accounts come with personalized email addresses at your domain.
Then, depending on your tier, you get storage (which is unlimited for all but the basic accounts), shared files, voice and video conferencing, security, support and more. If you're not sure whether it's right for your business, Google will let you try it for free for 14 days before you commit to buying it.
2. It's smarter than ever.
Artificial intelligence improvements to all of the G Suite tools mean that you'll spend less time dealing with the software and more time actually getting things done.
What's smarter about it? Well, storage, for example; rather than spending time looking for the exact file you need, G Suite's storage now takes cues from what you've been spending your time on (like meetings, emails, and other activity) and offers the files it thinks you want before you lose ten minutes looking for them.
The Calendar has improved and can now find available slots in multiple users' schedules to suggest good meeting times. Presentations are smarter because they offer suggested layouts and formatting to complement your content.
These are just a few examples, but ultimately, the AI that's now behind G Suite can save you a lot of time during the day and minimize frustration.
3. It has more versatile security features.
If you're a regular Gmail user, then you already know about Google's very tight two-step verification process every time you log in from a new device. It takes a few extra minutes since a code has to be sent to you via text message and then entered as part of your login, but it's a solid security feature that keeps your account well protected.
G Suite offers this same two-step verification, but security can also be configured using Security Keys. These are actual physical key-like dongles that plug into a computer and use Bluetooth or near-field communications (NFC) to verify a user's authenticity. Spend a few minutes, just once, to set it up, and you're good to go from there on out. If you use different devices frequently as part of your work setup, this security feature could save you lots of time over the long run.
4. It's highly social.
In our media-driven world, having workplace software that integrates well with social media platforms is more important than ever. G Suite is compatible with many of the popular ones, like Facebook, WordPress and YouTube.
Plus, Workplace by Facebook can be configured to work with G Suite. As expected, Google is still pushing its Google+ platform, despite its relative lack of popularity (it's not quite as dead as Orkut, at least). Still, this integration is incredibly helpful for marketing folks and, really, for everyone.
Suorce- Entrepreneur
One of the Biggest Google Apps for Work Partner in Thailand

092-262-6390

097-008-6314 (Sales)

support@dmit.co.th
Official LINE