In a nationally televised commercial that premiered last month, an empty search box sitting against a stark white background slowly morphs, becoming taller and skinnier. As Redbone croons "Come and get your love," the lines take shape and the outline of a phone emerges. It is, of course, the Pixel, a new phone "made by Google." The metaphor damn near hits you in the face: the search box once defined Google, but now Google needs to be something more.
The phones feel premium and Google has done a lot of the work to banish the bugbears that have vexed Android users for years. The 12-megapixel camera is fast and Google claims it's great in low-light. It got a DxOMark camera score of 89 — the best score ever given out to a phone. Though there's no optical image stabilization, Google tied the camera to the gyroscope to eliminate the hand-shake "jelly" effect in video. It has a new Snapdragon 821 processor and 4 gigs of RAM. The camera uses lasers and phase-detection to focus, and every photo or video you take gets saved in Google's cloud for free, at full resolution, for life.
Google also finally reworked some of the systems behind touch responsiveness on the display. Dave Burke, VP of engineering for Android, says that "touch latency [on the Pixel] is the best of any Android device ever produced. If you put it under high-speed camera, it's on par with an iPhone." (It still feels a little different to me, mainly because Android handles inertia a little differently than iOS).
Details like latency are precisely the kind of things that get better when you control the "end-to-end" experience. But where Google's new "opinionated" approach really comes to the fore is in the software. The Pixel is the first (and, for now, the only) phone to support the new Pixel home screen, Daydream virtual reality, and the Google Assistant.
Just as the Nexus was becoming unnecessary, Google found itself with a more urgent need: to take Apple head-on, and position Android as an iPhone competitor in terms of sales, quality, and customer service. Enter Pixel.
Google not only designed the Pixel's hardware — you'll find the circular "G" logo on the back of the phone now — but also formed direct partnerships with retailers and carriers. Verizon is presumed to be the company's exclusive US partner, though Google will sell an unlocked version of the phone in its own store, complete with optional financing. Preorders begin October 4th and it will begin shipping on October 20th.
In order to truly compete with Apple, Google will have to step up its customer support game. When something goes wrong with your iPhone, you go to the Apple Store. When you need help with the Pixel, you'll open up the settings and hit the support tab. Google is running a 24-hour chat and phone support service — and when you call in, you can opt to show the rep your screen so they can walk you through whatever's going wrong.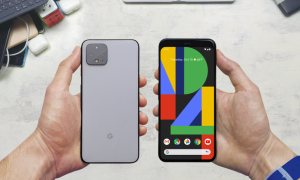 Design-wise, there's no denying the iPhone's influence. There are differences, of course: the bezel on the back is angled instead of curved. The fingerprint sensor is on the back, too, inside a square glass "shade" that helps you align the phone in your hand. The phone is also very slightly thicker at the top than the bottom to fit the camera without requiring a camera bump.
Alongside the Pixel phones and Google Home, we're getting our first look at the devices that fill out Google's entire ecosystem: the Daydream VR headset, a new Chromecast, and the Google Wifi home router.
Daydream isn't launching until early November, but it's getting its first real demo at Google's hardware event. It's exclusive to the Pixel for a short time and it's certainly more approachable than other VR headsets. Made of fabric and designed to make it fast and simple to use, it's easier to figure out than the Galaxy Gear, though of course not as powerful as an HTC Vive — you can read much more about Daydream here. The Chromecast Ultra supports 4K and HDR and even lets you use Ethernet for its connection. It's connected to the Assistant insofar as it stands ready and waiting for Home to sling video at it.
Google Wifi is also only tangentially related to the Assistant. Google figured people need good Wi-Fi to talk to it, so it made a new router that starts at just $129. Just like Google tried working with partners for the Nexus then decided to make its own phone, Google is building its own router, too. Like the Eero, it's designed to be used as a mesh network — you can buy a three-pack for $299, and add as many more as you like. Like Google Home, they're designed to be inoffensive gadgets you won't mind scattering around your house. And like the microphones on Google Home, Google Wifi takes advantage of Google's machine learning to better manage all the devices on your network.
"We actually did a whole bunch of things to make sure that it didn't look too much like an iPhone," Rakowski says. But from a distance (or in a case), the similarities are unmistakable. And so is the pricing: the Pixel fits in the high-end Android market precisely where Samsung's exploding Note 7s left a hole.
Make no mistake, the high end is where the Pixel lives. It starts at $649 for a 32GB Pixel and goes up to $869 for the larger 128GB Pixel XL. That's likely to give people used to Nexus pricing some sticker shock, but it's in line with Apple and Samsung phones. The components in the Pixel are expensive, Osterloh admits, and therefore the phone is, too. "We didn't want to have any compromises in the user experience," Osterloh says, "and so that's why we went to the premium end."
Osterloh knows that "We certainly aren't going to have enormous volumes out of this product. This is very first innings for us." Google's metric of success for Pixel won't be whether it picks up significant market share, but whether it can garner customer satisfaction and form retail and carrier partnerships that Google can leverage for years to come.
Official LINE