Demeter ICT Company Limited announces this Privacy Policy in regards to the use of the Demeter ICT Webpage, https://www.demeterict.com (including Demeterict.com and its informational sub-pages, and submissions through the Support page) . If you have any questions about Demeter ICT product or service, please refer to the privacy policy for the applicable product or service.
This privacy policy describes when it comes to the processing of your personal information on the demeterict.com website and its sub-domains for information introductions, as well as any enquiries submitted through our Support page, and outlines your options and rights in relation to the information. Please read this carefully to learn how we gather and handle your information, and how you can manage it.
This Privacy Policy solely applies to the Demeter ICT Webpage, as indicated above. (including demeterict.com and its informational sub-pages, and enquiries submitted through the Support page). If you use products or services operated by Demeter ICT or its affiliates, and you would like to understand how data is processed, you will need to review the privacy policy for that particular product or service. This Privacy Policy does not apply to any products or services that use or are accessible through a demeterict.com subdomain to make API calls.
If you do not consent to your personal information being processed in the manner described in this Privacy Policy, simply do not supply your information when requested and exit the website.  By continuing to use the Website, you accept the rules described in this Privacy Policy regarding your personal information.
1. The types of personal information that company use
This section explains the numerous types of personal information we collect from you and how we collect it. The following is a summary of the types of personal information we use :
Information you provide to us
When you provide us with certain information in regard to your query when you submit an enquiry via the Support page on our website or contact us using the contact details indicated in this Privacy Policy.
Cookie
We use cookies to enhance your experience using the Webpage. Cookies are small files that, when placed on your device, enable us to provide certain features and functionality.

Demeter ICT will not use Cookies to collect personal information, If you do not agree to receive Cookies, you may change your browser settings to decline or prevent Cookies delivered by Demeter ICT or third-party service providers.
2. How We Use Your Personal Information
Demeter ICT may collect, use, and reveal your Personal Data for the purposes specified above.The type of data collected will depend on the interaction between you and Demeter ICT.
This section provides more information about the types of personal information we collect from you and why it is provided in this section.
When you submit an enquiry to us, to contact you and handle your questions, we will in accordance with the law only collect information that is strictly necessary and will not use it for other services. The specific information collected is as follows: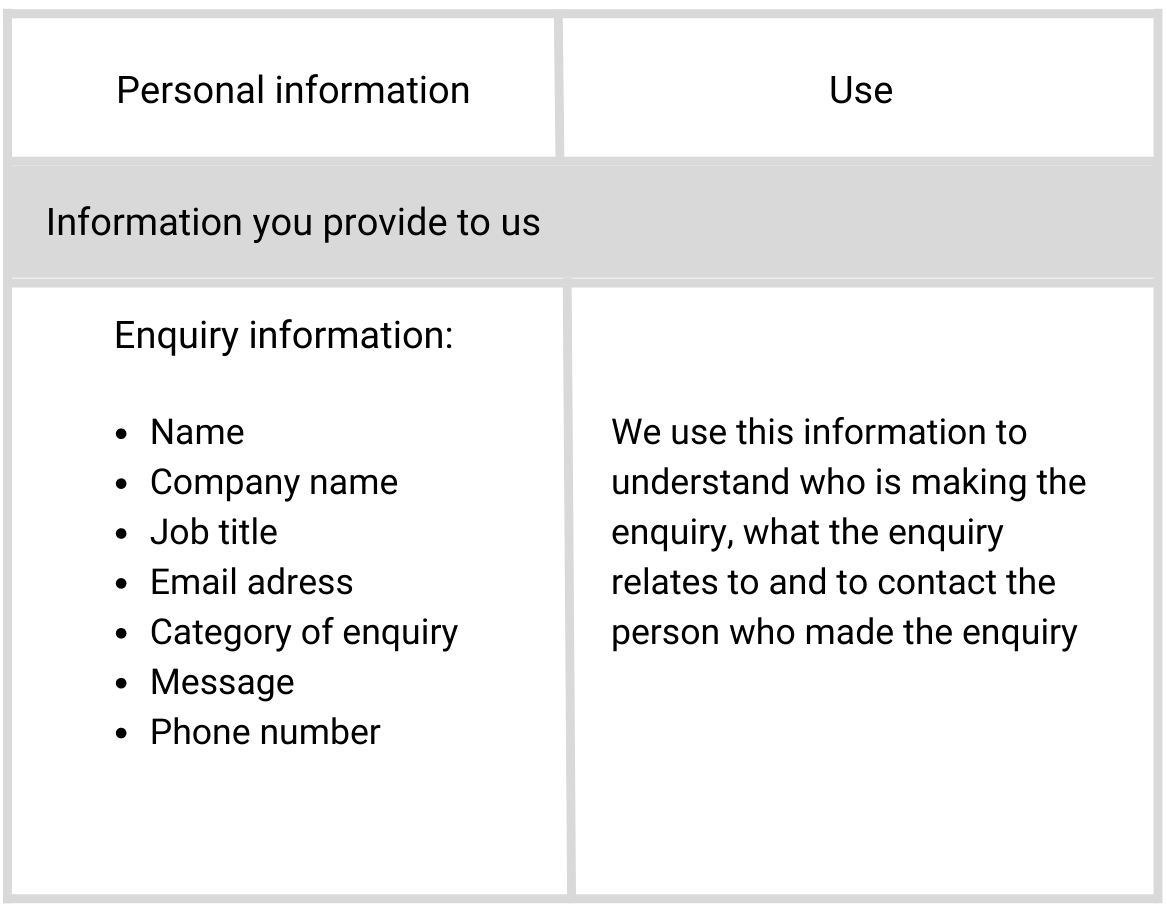 3. How We Store and Share Your Personal Information
Demeter ICT will collect, use and reveal your Information for management and administrative purposes to guarantee that Demeter ICT can conduct business with you in an appropriate, effective, and lawful manner to fulfill any and all contractual obligations.
Following this Privacy Policy, we will completely adhere to all legal rules and regulations, as well as take stringent and secure protective measures to protect your rights.
Only where reasonably necessary will we share your personal information. Situations, where this occurs, are:
Regulators, judicial authorities and law enforcement agencies, and other third parties for safety, security, or compliance with the law. We may be legally required to disclose information about you to authorities in some instances, such as to comply with a legal duty or procedure, enforce our rules, address security or fraud issues, or safeguard our users.These disclosures may be made with or without your consent, and with or without notice, in compliance with the terms of a valid legal process such as a subpoena, court order, or search warrant.
The terms of the legal process frequently prevent us from informing you of any such disclosures. We may seek your consent to disclose information in response to a governmental entity's request when that governmental entity has not provided the required subpoena, court order, or search warrant. We may also use your information to:
enforce our terms and conditions and other agreements, including any potential violations thereof; and investigate any potential violations thereof

;

detect, prevent or otherwise address security, fraud or technical issues; or
protect the rights, property or safety of us, our users, a third party or the public as required or permitted by law.
A third party that acquires all or substantially all of us or our business. We may also disclose your information to third parties if we either: (a) sell, transfer, merge, consolidate or reorganize any part of our business, or merge with, acquire or form a joint venture with, any other business, in which case we may disclose your data to any new owner or other third party involved in such change to our business; or (b) If we sell or transfer any of our assets, the information we have about you may be sold together with those assets and transmitted to any new owner or other third party involved in the sale or transfer.
4. The Security of Your Personal Information
We are committed to protecting the privacy and security of your personal information, regardless of where it is kept. We have information security and access policies that limit access to our systems and technology, and we protect data through the use of technological protection measures such as encryption.
Despite the fact that we have taken reasonable steps to protect your personal information, data transfer over the internet is not completely secure. In the event of a security incident such as a personal data breach, we'll start an emergency strategy to prevent the security situation from getting worse, and we'll let you know about it via push notifications, announcements, etc.
5. Data Retention
Your personal information will be collected for as long as necessary to satisfy the purposes for which your personal data has been collected. We will retain your information as follows:

Information you provide to us when submitting the enquiry form or contacting us using the details specified in this Privacy Policy: until your enquiry is resolved, and then erased within 5 years of such resolution, unless you agree to have this data retained and receive more information in the future. 

We'll preserve your information separately from other forms of personal information if we are compelled to keep it longer than the retention periods set out above, for example, to comply with applicable legislation.
6.Your Rights
You have legal rights for the personal data we keep about you (to the extent permitted under applicable laws and regulations). You have the right to seek access to and adjustments to the information we hold about you.
To exercise any of your rights, please contact us at support@demeterict.com
7. Complaints
We welcome your questions, comments, and requests about this Privacy Policy. We have set up a personal data protection team and assigned a designated personal data protection officer. 
Please contact the data protection officer if you have any questions, complaints, or recommendations about this Privacy Policy or data protection-related topics for the purposes of ensuring conformity with the applicable privacy law.
If you have a problem about how we handle your personal data, please contact us in the first instance
at support@demeterict.com and we will endeavor to deal with your request as quickly and efficiently as possible.
8. Changes
Demeter ICT retains the right to make modifications to this Notice as necessary to comply with applicable laws. If we make any changes to this Privacy Policy we will post the updated Privacy Policy here. Please revisit this page frequently to see if this Privacy Policy has been updated or modified.
9. Contact 
If you have any enquiries or would like to exercise your rights or need any help regarding your personal data, please contact us. 
Email : support@demeterict.com 
Call : +66 2 030 0066
Company is located at  : 43 Thai CC Tower, 7Fl., Room 074, South Sathorn Rd., Yannawa Sathorn, Bangkok 10120
Last Updated : April 2022