According to the app's added "What's New" text on the App Store, Google will now show you searches that are "trending around you" when you tap into the search box to start a search. It's also showing Instant Answers as you type, meaning you can ask questions or get quick information before you even press the search button.
Now, the Trending Searches have blue, rounded 'climbing arrow' icons next to them, which makes these trends easier to differentiate from your own search history, as compared with the gray icons on a white background when the feature first launched last year.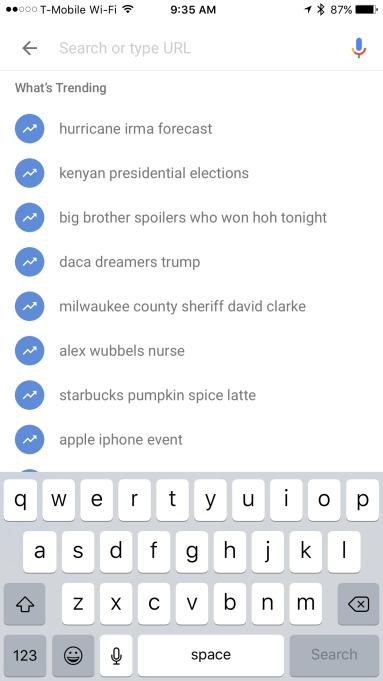 Though the update claims the Trends are related to what's happening around you, they don't seem to be all that local. Instead, today's list points to general U.S. trends, like the upcoming iPhone event, Big Brother spoilers, and Starbucks Pumpkin Spice latté, among other things. (Wow, that's America in a nutshell, huh?)
In addition, the search feature itself has gotten a little smarter, as it can now answer questions as you type out your search query – even if you typo.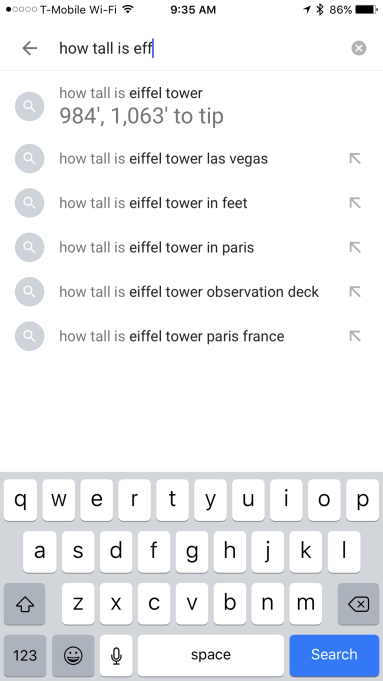 For example, Google suggests, if you typed "goog stock" or "how tall is the Eiffel Tower," the answer would appear in the suggestions below the search box. This data comes from Google's Knowledge Graph – its database of facts sourced from places like Wikipedia and the CIA World Factbook.
These updates follow a more recent, major change to Google's app, which introduced "the feed," Google's own, algorithmically crafted news stream focused on your interests.
The updated Google Search app is live on the App Store now.
Source – TechCrunch
One of the Biggest Google Apps for Work Partner in Thailand

092-262-6390

097-008-6314 (Sales)

support@dmit.co.th
Official LINE