Google G suite offers companies a very powerful cloud-based business tools. Nowadays it doesn't matter anymore whether you are at work, at home or on the other side of the globe, because with G Suite you can always do your work and communicate with your coworkers regardless of your current location or device. Also with these tools your companies can improve their working and make it more profitable and easier. In this article we are going to tell you few tips about how to use all these great tools to make your communication with your colleagues, customers and others much effective and productive.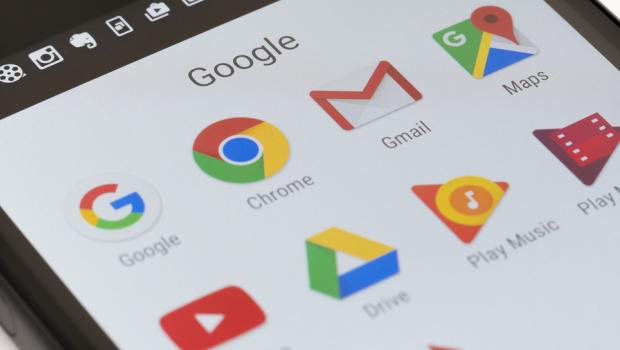 Gmail
Especially in bigger or fast growing businesses it can be hard to communicate with many people at same time. In Gmail it have been made very easy to create email groups. If you're frequently emailing the same people about a project or topic you should start using Group feature. Then, instead of emailing people individually, you can use the group's email address to send information or share files with everyone at once. It easy to create many groups, for example one group for every different team at your company. That's way it's faster and easier to keep all the right people up to date. You should always carefully consider if everyone in the group really needs to get the message, and explain at the start of the email why you're sending it to that group.
Hangouts Meet and Chat
Sometimes email threads can get too long or confusing. Then it may be easier to talk in person with your coworkers or team. When using Hangouts Meet you can have a face-to-face discussion with anyone at anywhere in the world. During the meeting it's possible to showcase an idea by sharing your screen, or share links to ideas or other online resources in the built-in group chat. Or, if you just need a quick yes or no answer then you can use Hangouts Chat. With Hangouts Chat you can communicate with your co-workers in real time, share files and other online resources, and work together on team projects. You can read more about all Hangout Chats effective and productive features here.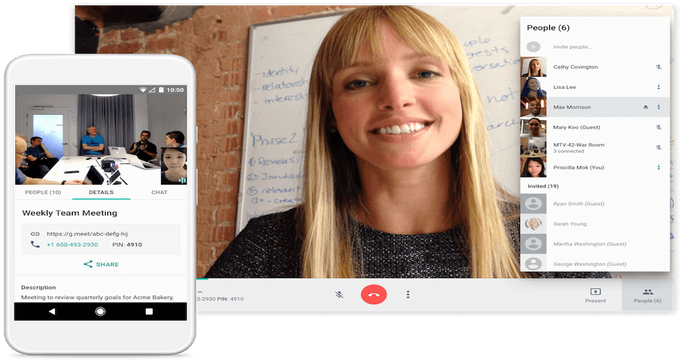 Sharing documents and files
Need to share the same information with your team members across the globe? Or want to brainstorm together with team? Brainstorming ideas is much easier when everyone can share information in one place and give instant feedback. You can create a document that serves as a blank canvas for your team's ideas using Docs. Edit together in real-time, chat within files, and get targeted feedback using comments and suggestions. At same way you can also create and edit Google Sheet and Slide documents with your co workers. If you want to share any other kinds of documents or files, it's can be done with Google Drive. G Suite's Basic edition includes 30GB of online storage per user. Business and Enterprise editions both offers unlimited storage for every users.
Google Calendar
When a team is spread across the globe and operating in different time zones, it can be challenging to organize meeting dates that suit everyone. With Google Calendar, you can easily check your team members calendars to see when everyone is available. When you know when people are free, it's easy to schedule team meetings or events. You can even create multiple team calendars to keep track of meetings, trainings, vacations, and more. When using Google Calendar you spend less time planning and more time doing with shareable calendars that integrate seamlessly with Gmail, Drive, Contacts, Sites and Hangouts. You can also browse and reserve conference rooms, with detailed information on capacity and equipment.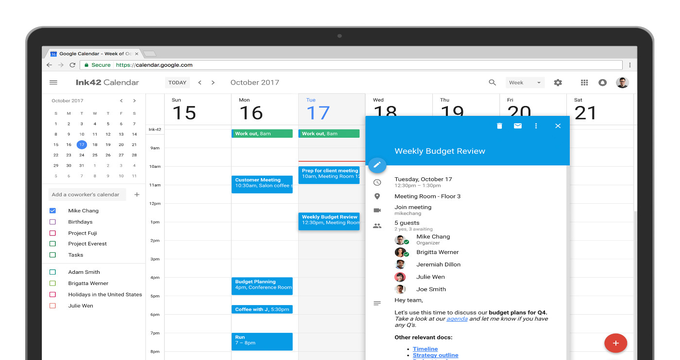 Team site
If your organisation uses G Suite then you can take advantage of the availability of Google Sites as part of your G Suite domain. With Site you can easily create a new team site where your employees can find the latest information in one place. On that website everyone in your organization, no matter where they're located, can find your team's contact information, project updates, roadmaps, collateral, and other resources in a single place. Especially if your co-workers are distributed around the globe. You can for example publish a Google Sheets roster with team members' names, roles, and contact details to help others reach the right people or show upcoming events or deadlines by embedding a Google Calendar.
Source – Google Blog
Official LINE