When most people refer to a CRM (customer relationship management) they're referring to software or a tool that enables them to manage and improve their relationships with prospects and customers.
But customer relationship management varies, depending on what department you're talking to. A support team might use a CRM to manage customer tickets, while marketing teams may use the tool to analyze how consumers respond to online campaigns. When it comes to sales, a CRM is used to streamline pipeline management. With a sales CRM tool, you can safely store databases of customer information and drive more sales.
Simplify sales
A sales CRM is a tool for managing all touchpoints with prospects or customers throughout the sales process. A touchpoint could be any interaction—both direct and indirect—between sales reps and their leads. The tool tracks communication with prospects, automatically organizes customer data, sends reminders to follow up with leads, and more.
Essentially, a sales CRM simplifies the process of lead nurturing. Both administrative tasks and data organization are automated, so you can spend less time on data entry and focus more on building meaningful relationships with prospects. What can a sales CRM help your business accomplish? Read on: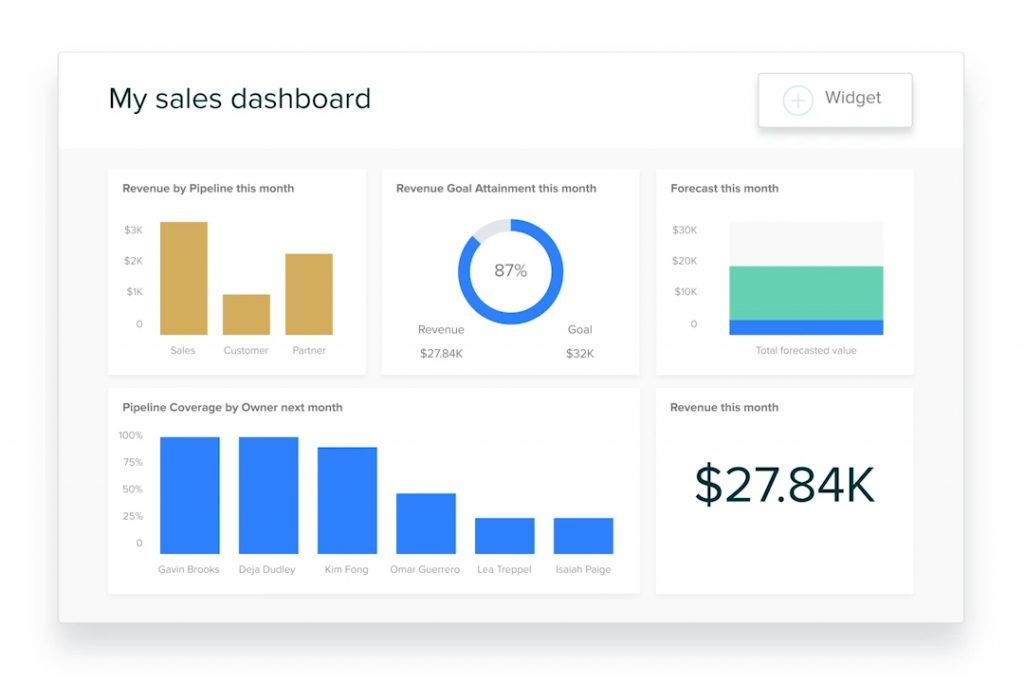 Centralize sales operations
Sales reps spend their days juggling everything from prospect research and cold calls to deal management and field sales. Managers also stay busy with monitoring their sales reps' performance, conducting ride-alongs, and coaching their team. Without a centralized system of managing these day-to-day operations, things can quickly become dysfunctional in your department.
Sales CRMs are designed as one-stop solutions for daily workflow. They can integrate with your existing tools and communication channels, making it easy to manage all your tasks from a single, unified platform.
This centralization of data creates a single source of truth across your organization. Sales reps can easily find the most accurate, up-to-date information needed to properly follow up with a lead or close a sale. And they can engage with prospects across all communication channels, such as email, phone, or the website's chat box—without having to switch between apps or browser tabs.
Improve customer data accuracy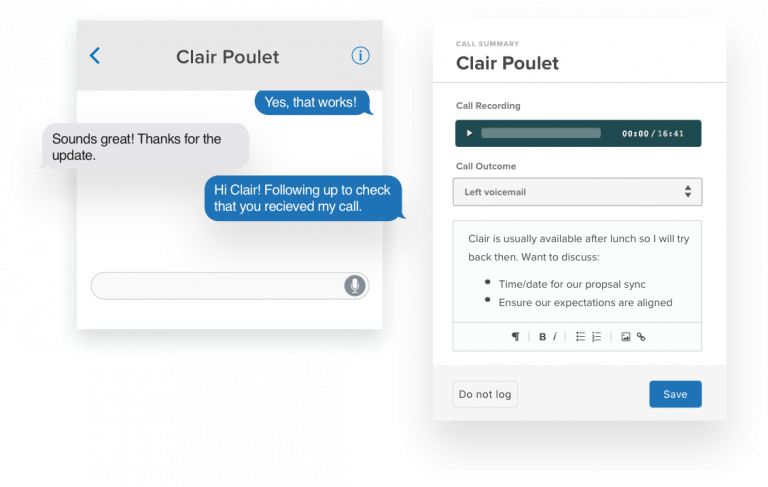 Manual data entry is prone to human error. Say a rep needs to manually record a lead's contact information. They might accidentally enter inaccurate data or simply forget to enter the lead's contact information.
Sales CRMs minimize these errors by automatically recording any action a rep takes within the app, such as initiating a sales call or sending a follow-up email. With Zendesk Sell, those actions are displayed in real-time activity feeds and individual contact cards.If you're looking for specific information regarding a prospect or event, you can easily filter the feed by activity type or user.
Last but not least, many sales CRMs come equipped with data enrichment tools, like Zendesk Sell's Reach. These tools use online databases to automatically populate detailed information into a lead's contact card. Not only does this reduce the likelihood of reps obtaining incorrect data, but it drastically cuts down on time spent researching leads as well.
A sales CRM doesn't just make accurate, detailed lead information more accessible; it also helps you identify underlying performance or operational issues that might be affecting your company's growth.
Identify bottlenecks in the sales process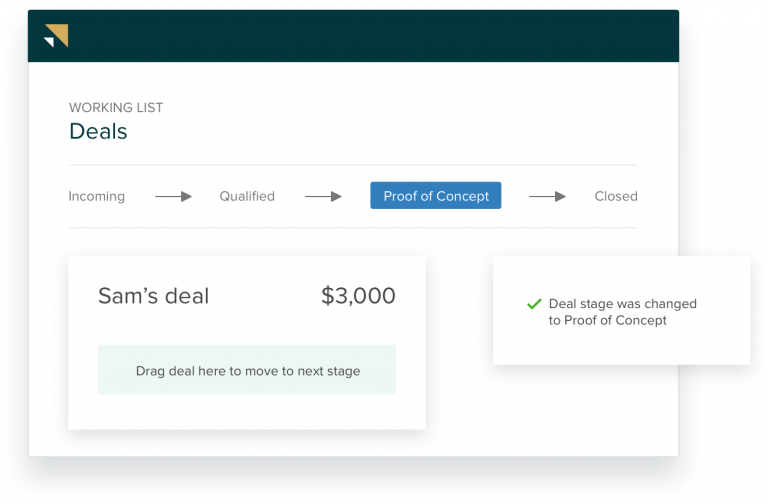 For companies who don't use a sales CRM, analyzing performance issues can be a real challenge. They have to compile massive amounts of data into spreadsheets and wrestle with Excel formulas just to make sense of it all.
The beauty of a sales CRM is that it handles data analysis for you. Customer information is automatically compiled into real-time "smart reports" to provide insights into how your sales department is functioning as a whole.
Zendesk Sell's reporting capabilities, for example, include the following :
Sales funnel analysis 

This report can show you where prospects are currently sitting within the pipeline, as well as provide insights into where leads are being lost or won.

Conversion reports 

Managers can use these reports to assess how well individual reps are moving prospects through the pipeline. They can also be used to view general conversion rates across your sales team.

Forecasted sales 

Your sales CRM can predict expected revenues by analyzing the value, estimated close date, and win the likelihood of sales in your pipeline.

Activity overview reports 

You can view a breakdown of the activities being performed by your sales reps, including number of calls made, emails sent, appointments held, tasks completed, and more.

Goal reports 

Use these to track your team's progress toward revenue goals.

These reports can be customized and filtered by pipeline stages, sales activity type, individual rep, and more. It's up to you how granular you want to get with smart reports, but one thing's for certain: if there are any bottlenecks in your sales process or any performance issues with individual reps, your sales CRM will find them. The benefits of a sales CRM are endless. Between automation, lead enrichment, and smart reports, your sales team will have everything they need to work more efficiently, and more productively

.
Shorten your sales cycle with a sales CRM
Building a loyal customer base is all about developing meaningful relationships. A sales CRM automates the administrative and data analysis tasks that typically bog down a sales rep's time, so they have more time to connect with leads. Meaningful relationships can be established in less time, with more prospects, allowing reps to move leads through their pipeline more quickly.
KERRY EXPRESS
Demeter ICT involved in Zendesk implementation at Kerry Express, starting from customer service process design, configuration, integration with Telephony and Chatbot, training, testing, data migration and Go-Live Support. The implementation time was around two months.
LINEMAN
Demeter ICT participated in Zendesk implementation at LINE MAN WONGNAI. The scope of work is involved with customer service process design, configuration, integration with Telephony, training, testing, data migration and Go-Live Support. The system was up and ready in one month.
Cathay Pacific Airways
"As a customer-centric airline, it is essential that Cathay Pacific communicates with our customers on the channels they prefer. Messaging is fast becoming the preferred mode of communication of our customers and we're looking forward to enhancing our customer experience with these new Zendesk capabilities." - Lawrence Fong Group GM IT and Digital, Cathay Pacific Airways
TRUE
Demeter ICT helps TRUE implement the Zendesk system. The scope of work is involved with customer service process design, configuration, training, testing, data migration and Go-Live Support. This is another ideal case that the customer started from a small portion of Zendesk deployment in order to prove the concept and expand significantly during the past few years.
Riot Games
"Zendesk is very much focused on the 'player' experience, like we are. I feel like we've always been able to speak honestly with each other." Shaun 'BlueFire' Randall Product Manager Support Engineering at Riot Games
Evernote
"We love the help center in Zendesk because it's easy to use. We get some great analytics out of it in terms of which articles are being used the most. It helps us to make adjustments and to see what's helping our users." - Gerald Hastie Director, Global Customer Experience at Evernote
Tesco
"Zendesk allows us to treat our colleagues with as much care as we give our customers." - Adam Bruce Lead Product Manager, Service Desk at Tesco
Discord
"If we hadn't invested so heavily in incredible support and our customer experience, we'd probably be just another app. Even if we're just sharing cat memes, we're constantly engaging with our customers, so they feel like they really know us as people. That's a big part of our brand, and that starts with great support." - Danny Duong Director of Customer Experience at Discord
Airbnb
"Having a partner that really understands our business, and how ambitious we are, is huge—because service, at the end of the day, needs to be in lockstep with every single track of work that's happening within Airbnb." Shirley Lin Product Lead of the Support Products Group at Airbnb
LINE OFFICIAL