In today's fast-paced world, businesses strive to provide exceptional customer service and increase customer engagement to stay ahead of the competition. So This year  Zendesk introduced a new feature called Proactive Messages on April 23th. This article will provide you with a detailed introduction to this feature.
What are Proactive Messages?
Proactive messages refer to sending targeted messages to customers before they contact you. These messages can provide assistance, personalized greetings, and more.
It also anticipates customer issues in advance, enhances customer engagement, and enables more personalized customer service.
How to use Proactive Messages?
You can choose which customers see your messages; what, where, and when they see them; and whether a bot or a person will pick up the conversation when customers reply.
In fact, proactive messages can be used in many situations to meet the specific needs of your business. As an example, creating greetings to your customers can be achieved through the following 5 steps:
Step1: Open Admin Center in Zendesk, and find the Proactive Messages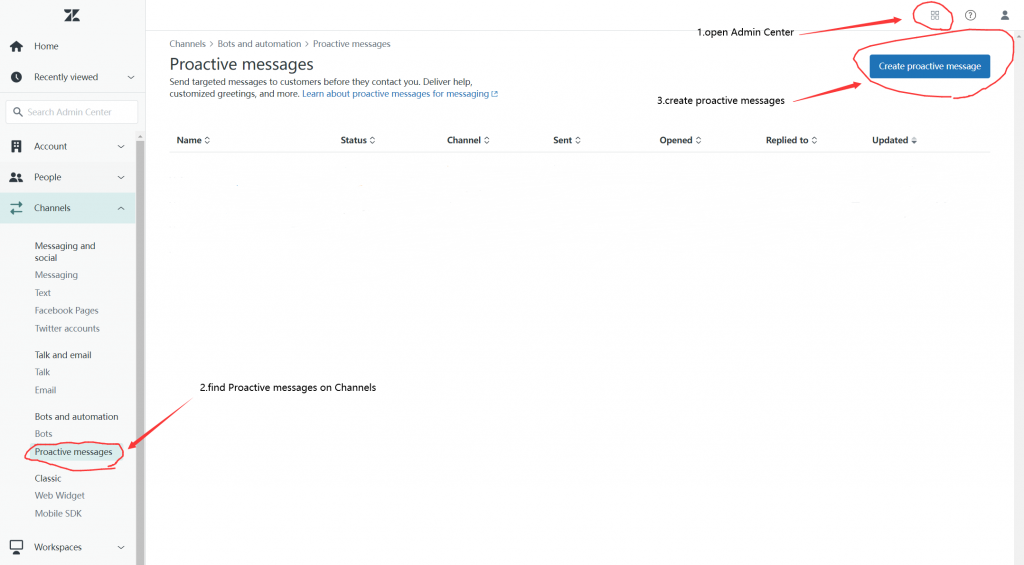 Step2: We need to choose the brand and channel which you want to create a proactive message and rename your program.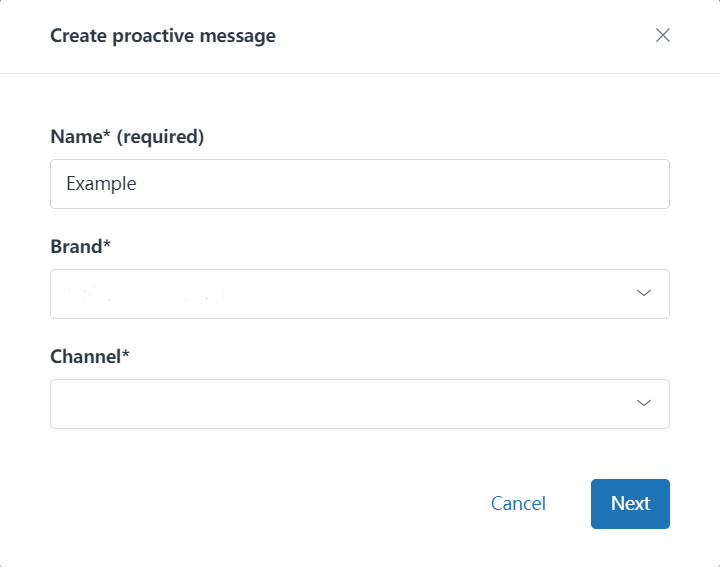 Step3: Compose messages and choose how to respond: Agent or Bot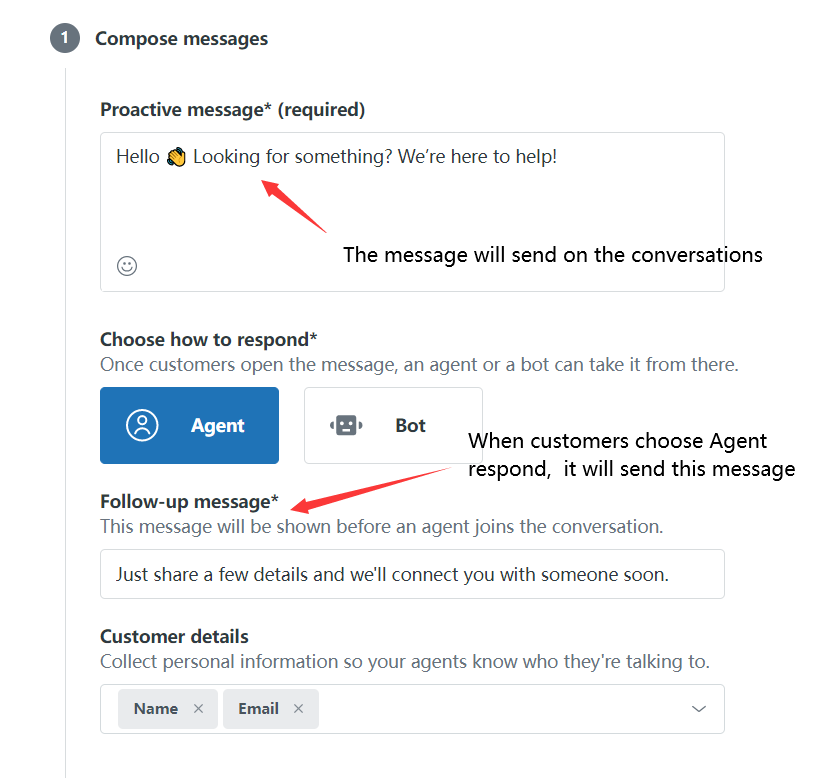 If we choose Agent respond, then we need to compose follow-up message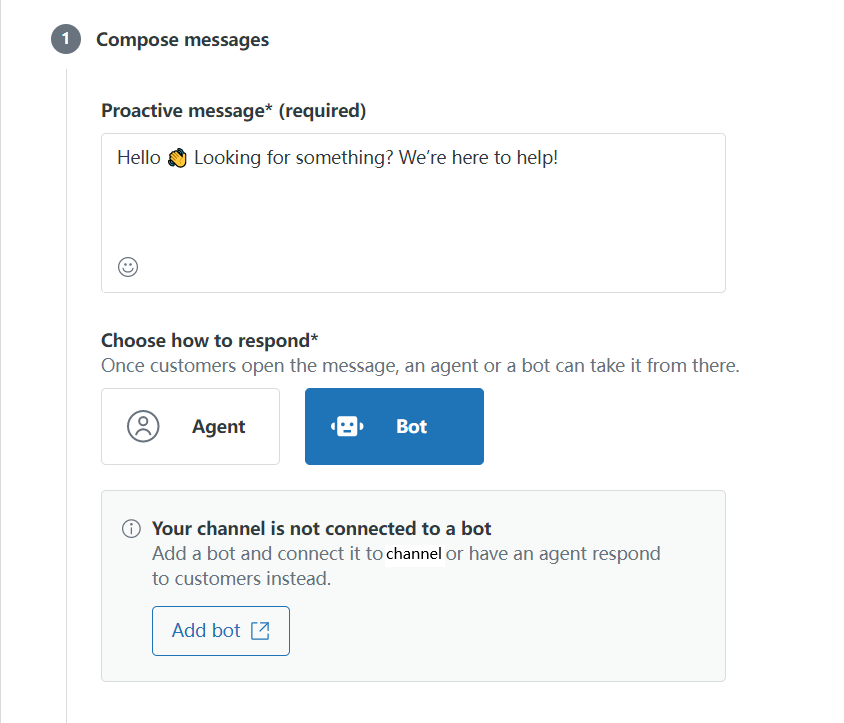 If we choose Bot respond, we need to connected our bot to the channel
Step4: Set the rules, and you can add many conditions for the proactive message
Step5: We select the time and frequency, and we are done.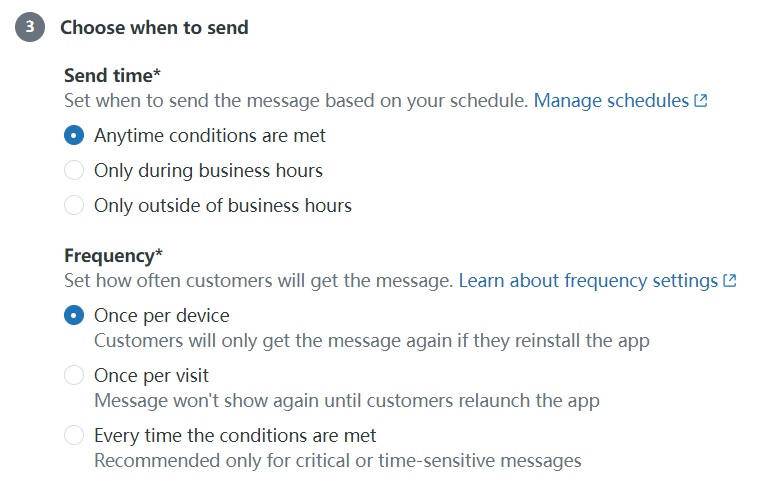 Let see what it will be like: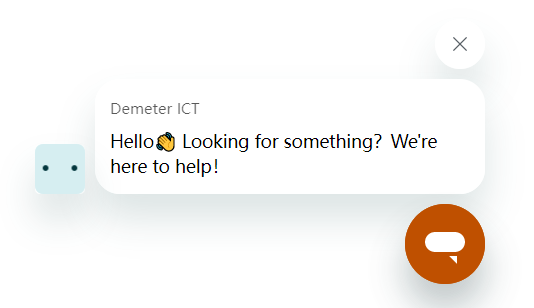 Why do you need Proactive Messages?
Increase customer retention rate
When customers have spent a certain amount of time on your website, proactive messages can be sent to them, encouraging their participation in conversations. An engaged customer is less likely to bounce from your page, whether they're browsing, shopping, or looking to contact support.
Reduce operational costs
Proactive Messages help reduce operational costs by getting ahead of issues before customer queries overwhelm your support team. It also creates a frictionless experience while interacting with support.
Increase sales and conversions
Proactive Messages can promote products, share announcements, and give out discounts to customers to grab their attention and motivate them to complete a purchase.
The following limitations apply to the current version of proactive messaging:
Proactive messages are only available for the Web Widget and Mobile SDK messaging channels.
Proactive messages are not supported for third-party bots and social messaging channels.
Proactive messages can only be used on one channel at a time. Channels, however, can have multiple proactive messages running simultaneously.
Proactive conditions with two conditions or less cannot use nested conditions.