Messaging apps are nowadays the most popular way to communicate with friends and family. With this convenience, customers want to communicate with business by using the messaging apps which they use on a daily basis. Then, we will talk about the difference between WhatsApp and WhatsApp Business.
At present, WhatsApp is the most popular chat app in the world with 2.5 billion users. Most business are using this app in large numbers. However, messaging from WhatsApp and WhatsApp Business is different, because WhatsApp is a simple way of messaging each other. But at the same time, WhatsApp Business has more features than WhatsApp Personal. Where WhatsApp offers business apps and/or APIs to companies looking to communicate with their customers on the WhatsApp platform. Both apps and APIs are often referred to as WhatsApp Business.
Let's take a look at the difference between WhatsApp and WhatsApp Business, and discover the features of WhatsApp and its benefits.
What's the difference between WhatsApp and WhatsApp Business
WhatsApp is a free messaging app that allows you to make calls and send messages, photos, audio, and video to people all over the world. Unlike standard text messaging. Chats are conducted over the internet, so no phone network or SMS fees are required. This app designed for one-on-one or group communication.
WhatsApp is not only the most popular chat app for consumers, but it is also the top messaging app companies use. Customers can respond to conversations in real time or at their own convenience. In addition, agents can help more customers at the same time. Also, customers will not have to repeat themselves.
The WhatsApp Business app is designed for small business owners. It has advantages over session-based live chat. Customers can respond to conversations in real-time or at their own convenience without losing conversation history. This app has the same interface as the consumer WhatsApp app, with some additional features. For example, companies get a verified Business Profile, they can also set up Catalogs, a mobile storefront, and share their goods on the platform. So that customers can trust who they're chatting with. 
WhatsApp Business has an API for enterprise, commercial, and larger SMB teams that handle a higher volume of customer requests. Business can use the API to integrate WhatsApp into CRM and customer support software such as Zendesk to track, prioritize, and respond to customer requests at scale.
Support teams can provide support over WhatsApp alongside their other channels, so conversations and customer data are not fragmented across systems and software. This allows them to have multiple agents managing conversations while leveraging tools such as chatbots and automation.
With this difference, more tools and features such as Messaging Automation. In WhatsApp Personal doesn't have this, but WhatsApp Business and WhatsApp business API have messaging automation to help business to communicate with customers.
The below table describes and shows you the difference: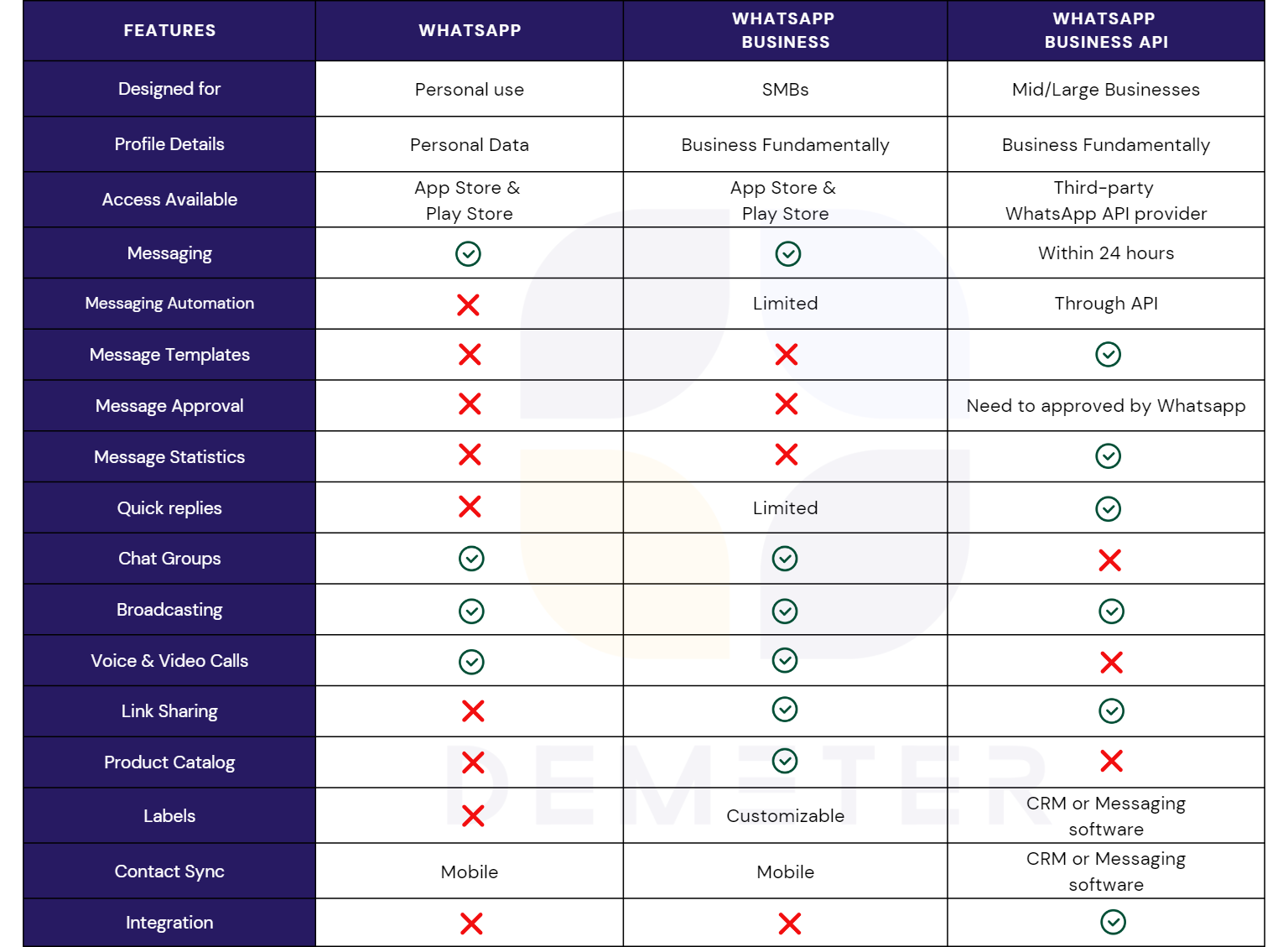 WhatsApp business features
WhatsApp's rich messaging types go beyond customer service. Customers are messaging businesses to get support, such as get consultations, make payments, book appointments, and more. That means conversations must be connected across the enterprise, which is why those companies leading in this effort are integrating WhatsApp with their CRM. 
Support teams can use quick replies to create keyboard shortcuts for simple, repetitive questions (so agents don't have to type out your reimbursement policy every time.)
     Business can send greeting messages to welcome new customers or let them know their message was received. Similarly, when agents are not working, they can send away messages to let customers know when they can expect a response.
Media-rich messages such as audio, documents, images, stickers, and videos make conversations more engaging and human.
Eighty-five percent of customers want to receive proactive communications. Businesses can use WhatsApp's message templates to send outbound messages to customers at scale. Templates help you communicate details such as shipping confirmations and appointment reminders.
Previously, outbound communications were limited by a 24-hour session window, which meant companies had to find a way for the customer to trigger proactive conversations. But now, business can initiate conversations and start new engagements with existing customers, too. Non-transactional messages are good for Clienteling, E-commerce, Facilitating back-office processes and Internal communication, etc. Find out how to initiate WhatsApp conversations by contact us.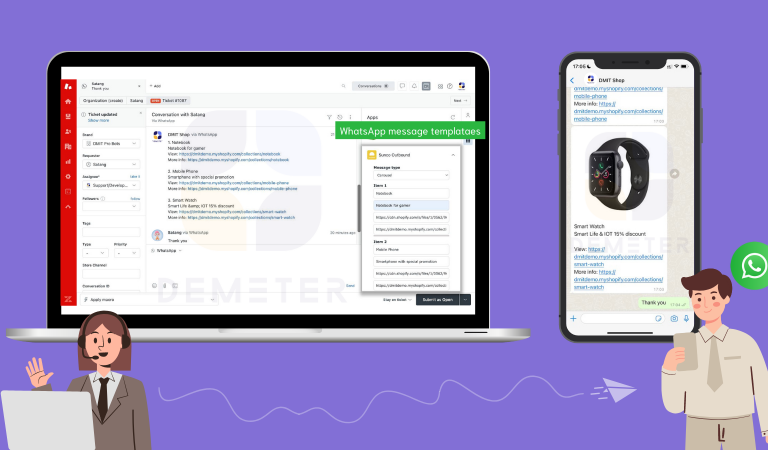 Example Zendesk Outbound messages: Using WhatsApp message templates apps and Sunshine Conversation
Bots have quickly become an important component of any messaging strategy, as companies add messaging channels to provide faster resolutions and always-on support.
With the right chatbot solution, businesses can deploy a bot over WhatsApp to answer FAQs. And with access to customer data, chatbots can deliver personalized responses, and help customers complete tasks inside the messaging thread, such as reserving a window seat for their flight or upgrading to a hotel room.

🙋🏻‍♀️Interactive messages
According to WhatsApp testing, chatbots using interactive messaging features achieve significantly higher response rates and conversions than text-based. Here are the two main types of interactive messages:

List Messages:

List messages present customers with a menu of up to 10 options. They provide a more straightforward and consistent way for customers to choose. Examples of List messages include options in an FAQ menu or available reservation times.

Reply Buttons:

Reply buttons include up to 3 options, each presented as a button. They're useful for offering quick responses to a limited set of options, such as adding optional extras to a food order or choosing a payment method.
WhatsApp business benefits
1. To meet customers where they are
Customers should not have to climb a ladder to reach support. Business need to provide help over channels that are most convenient for their audience. In fact, being able to reach companies through their preferred channels is one of the most important indicators of a good customer experience.
2. To build trustworthy customer relationships
Helps businesses build more trustworthy customer relationships with
Verified business profiles, so customers can trust who they're chatting with.

Strict business policies for sending outbound messages: To prevent spam, customers must consent to receive outbound communications and WhatsApp restricts certain types of messages that break the platform's guidelines.

Quality ratings, which are determined by customer feedback, such as phone number blocks and other reporting issues.

End-to-end encryption: WhatsApp considers chats with businesses that use the WhatsApp Business app or manage and store customer messages themselves to be end-to-end encrypted.
3. To provide a modern experience that's better than SMS
Business can use WhatsApp to create branded business profiles. That means customers will not receive a message from unknown number, which boosts credibility and authenticity. WhatsApp also sends notices to agents when messages are delivered and read.
Reach your customers on the world's most popular, reliable, and secure messaging app​
Customers are connecting with brands online more than ever, and messaging is their channel of choice. With Zendesk's messaging platform, get WhatsApp right out of the box or fully customize it to meet your needs.